| | | |
| --- | --- | --- |
| Welcome | | You are not currently logged in. |
| | | |
| --- | --- | --- |
| | | |
| | | |
| | | |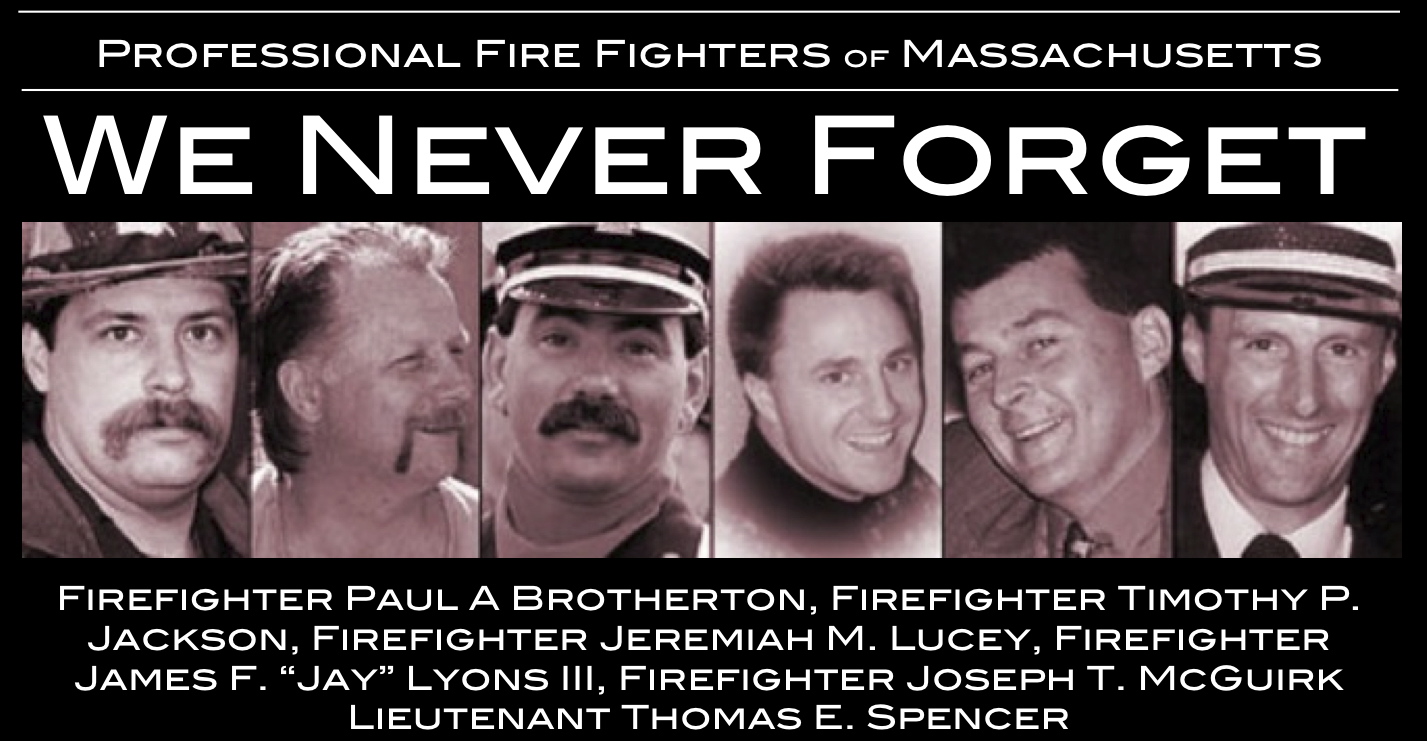 A day to remember the Worcester 6
WORCESTER — At 6:13 p.m. on Dec. 3, 1999, the men of Worcester Fire Department Rescue 1, Ladder 2 and Engine 3 were among the firefighters dispatched to the Worcester Cold Storage and Warehouse Co. building, a mammoth and maze-like building. There were reports of smoke in the area.

A blaze quickly spread, fueled by the layout of the building and the flammable materials contained within.

Firefighters Paul A. Brotherton, Jeremiah Lucey, and Joseph T. McGuirk, and Lts. Thomas E. Spencer, James F. "Jay" Lyons, and Timothy P. Jackson perished in the flames that consumed the building on that cold December night 14 years ago.

Today, Worcester firefighters and the community will remember - as they do every year - the bravery of the "Worcester 6" in a solemn remembrance at 6 tonight at the Franklin Street site, now home to a fire station.

Fire Deputy Chief Geoffrey Gardell will be just one of many firefighters and others who plan to be there tonight, as he has every year.

"Every year we're going to be there," Chief Gardell said. "There will be a gathering, nothing official."

A pipe and drum contingent made up of members of the Worcester Fire Department will be on hand.

Contact Linda Bock via email at lbock@telegram.com. Follow her on Twitter @LindaBockTG
It's that time of the year again. The WFD Children's Christmas Party will be held on December 22nd, 9:00am at Showcase Cinema North. For those of you new to the department, this party is for immediate family members of all WFD personnel. There will be entertainment, a movie and of course Santa will be there to hand out presents to all of the children. The movie this year is " Frozen. " Again, we ask that only immediate children of WFD attend. Presents are given to children ranging in ages from infant to 12 years. Please send me an email with your name, and the gender and ages of your children. Please pass the word along and don't wait to respond. The toy order will be placed in a few weeks. Any questions or concerns please contact me via e-mail or call me a H.Q. Thanks and we look forward to seeing you!
F.F. Willie Pitts - Grp.3 Lad. 2
Dec 6th from 5-6:30 pm we will be doing a boot day event Downtown at the city's Christmas Tree lighting, last year a few thousand attended so the event should go well.  We will need FF's throughout the area,  please contact John Franco or Chris Bishop know if you can help. Also, there are MDA Golf shirts at the WFDCU and Franklin St. for the $30. Read More...
Brothers and Sisters, December is coming up quickly which means time for the Annual Stop and Shop Food Drive. This year's date will be Monday, December 9th from 10am to approximately 8pm. Job Sweatshirts and Bunker Coats are usually the most common dress attire depending on the weather. Read More...