Updated On: Aug 231, 2015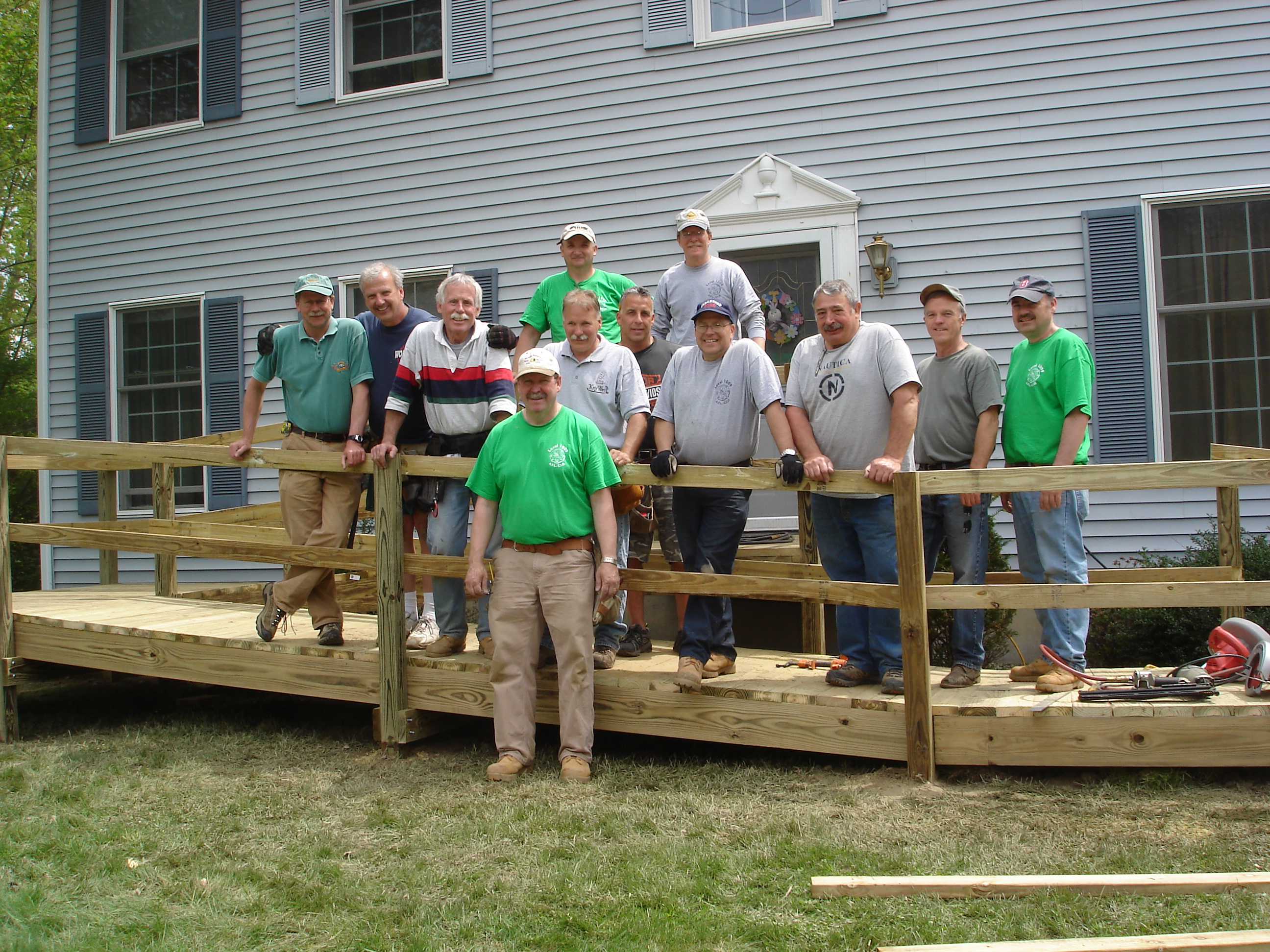 If you are interested in a ramp, please contact Paul Soucy at the The United Way at 508-757-5631 at ext. 212
Worcester Firefighters and the United Way Ramp Program
The United Way has been building ramps in the Central Mass. Area for probably better than twenty years. The program was run with a volunteer force provided by the Carpenters Union up until 2006.
About ten years ago the United Way Ramp Program was coordinated by Candice Carlson. Candice asked the Firefighters if they were interested in working with the Carpenters on some of these ramp builds. That is where our involvement began. Over the next few years a handful of Firefighters worked with the Carpenters on a number of ramp builds. It was a great program and all those involved had a great time.
In the winter of 2006 a retired member of our Union, Local 1009 needed a ramp built. It was literally the dead of winter with a foot of snow on the ground and 10" of frost below. The can do attitude that literally is the Fire Service swung into action as Bob LaRose and Mike Coakley gathered a group of firefighters to go to Grafton in the freezing cold to build a ramp for Bill. It was a great day, frozen pile of lumber, bobcat with an auger bit and lots of coffee. Bill's ramp may well have been the hook that brought us where we are today.
In the summer of 2006 the United Way Program was looking for some additional help and they came to the Firefighters to take a lead role in the program. Our past ramp experience had been great, and it was thought the Program and the Firefighters would be a perfect match. It was. That summer we built four ramps. It was a modest start and we brought new members into the Ramp Gang with each event. We took on our most challenging project to date on Maxdale Road that summer, a two day build that ended with a ramp that was 130' long. The current Ramp Coordinator Paul Soucy joined us right after the start of 2006 and the partnership has been going strong. Paul has helped us help some of our own which has made the whole program even more rewarding.
As 2007 rolled in we hit the ground running. We completed 12 ramps that year. It was a number we thought would not be beat. The Ramp Program and the Firefighters proved to be a perfect match. It worked great with our members schedule and allowed us to do what we do best Help Others. Each year the Ramp Gang grows in number, and some firefighters have brought children to volunteer and become members. It is a great way for children to do community service and learn the true value of volunteerism.
The 2008 build year started early and we achieved a record I cannot see beaten, 16 Ramps. This was our most successful year to date in many ways. The program spanned 9 months of building, 69 members participated, and we traveled to 7 cities and towns in Central Mass. to bring mobility and access to people who would not have it otherwise. This year we also built a ramp for another of our retired members. Jack's ramp was the longest build of the year and involved 32 volunteers working in a tiny College Hill back yard.
In 2009 we had another great year. The skills we have developed over the last 3 years have made us a little quicker and more efficient. We used that knowledge to start this year in a big way. We brought our Program to Medford to work with the Cambridge Firefighters. We built a ramp for a great guy and a great friend, Spike Lawless. Cambridge Fire turned out with about 70 volunteers, and it was a great time. During the build one of the Cambridge guys brought out a framed photo of Spike and a half a dozen other guys building a ramp for a young child afflicted with Muscular Dystrophy. I guess you do reap what you sew.
The Ramp Gang continues to get new members and retain the old ones. We don't have "dropouts," once you participate in a ramp build you will be hooked. It is not only one of the most worthwhile things you will do it is a lot of fun. See you at the next Ramp.
2010 was the 9th complete year of the
United Way "Ramp Gang ."
19 Ramps built (

137 ramps in total since 2006

)
984' of ramp built (

7,191' of total ramps built since 2006

)

29' was the shortest ramp in 2014.

80' was the longest ramp 2014.

245 Post holes (

1363 post holes dug since 2006)

364 Voluteers made up the 2014 Ramp Gang

at all ramp builds

.

Total of 97.5 hours of work

(522 total hours of work since 2006)
WFD "Ramp Gang" Heroes Award Video 2011
The WFD "Ramp Gang" was nominated by the United Way to receive a Heroes Award at the American Red Cross 2011 Breakfast of Champions. This award recognizes ordinary people who have done extraordinary things to help our neighbors in need. They were unanimously chosen and will be honored at the 2011 Breakfast of Champions.
The Events Calendar will always list upcoming builds under the title "Ramp Gang"